Special Special
Edition No. 27
One Sweet Dream Blanket (Red Egg Edition)
Oona Brangam-Snell
2018
Regular price $325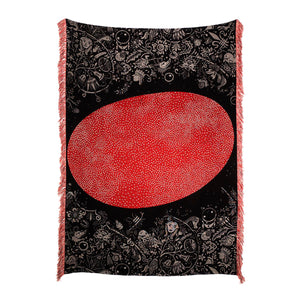 This is a second edition of the One Sweet Dream Blanket, designed by Oona Brangam-Snell in collaboration with Special Special. Produced especially for the Handle with Care holiday shop, December 2018.
A cluster of motifs pulled from Owen Jones' The Grammar of Ornament frame an oculus that opens into a star-filled night sky. The hieroglyphics in the foreground, perfectly still and evenly spaced, mimic the constellation above, in stark contrast to the modernist ellipsis that forms the aperture. The artwork is no longer ecclesiastically enshrined, and presents itself as intimate companions in the guise of a blanket. The original edition of One Sweet Dream with the Blue oval was produced for the exhibition BOLTS, on view February–April, 2018.
70% cotton 30% rayon, 72 x 46.5 in.
Edition of 10