Special Special Edition No. 28 Handle with Care Gift Wrap
2018
Regular price $12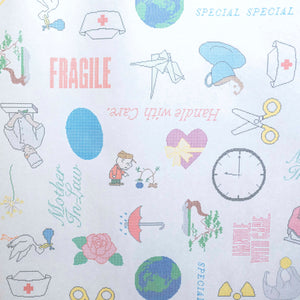 Carefully wrap something you care about. This gift wrap is populated with exclusively designed cross-stitched motifs that universally signal care and can be used or repurposed for any occasion year-round. From the holidays to welcoming a new child, we have you covered.
Designed with care by Special Special for the occasion Handle with Care, a holiday shop exhibition in 2018.
1 roll ink on newsprint paper wrapped around a cardboard tube
2  × 10 ft.