Banyi Huang Charm
Banyi Huang
2019
Regular price $25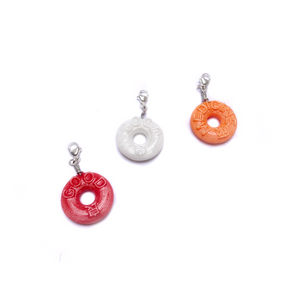 Stay sweet with these life-saver inspired charms for Edition No. 37, the Special Special charm bracelet. 
By Banyi Huang
Produced on the occasion of our show Tie Me Up! Lock Me Down! Nov 14–February 23, 2020
3-D printed out of PLA plastic, comes in orange, red and white
The sentence "Bitter Medicine Tastes Good" with the corresponding Chinese character is written out across them, one word per charm. Which word you get on your charm is up to fate.
0.75 inches in diameter.